So this week was my normal grocery shopping week, and my goal was to spend the same amount 200.00 for two weeks worth of groceries but to increase my load by a ton...It helped that Kmart was doubling to 2.00 this week....even though they truely irritate me at that store...I never shop there unless they run the specials, but whats even more irritating is that if your not there the day they start doubling to 2.00 then you miss out on some great deals! I did get 75.00 worth of groceries there for 20.00 so it was good, but I should have gotten aprox. 100.00 for the same price, but they were out of the other items I had coupons for to make the items free! Okay enough about Kmart....(I feel like I'm cheating on Target...my favorite store!...I'll see you soon honey!) :) Okay so after my kmart stop, I went over to Kroger, since they were in the same area, and I came out 123.00 in groceries and I spent 43.00...This was a good week! I should mention in that total, that I purchased 10.00 deoderant (Tony needs the strong stuff!) 7.50 for razors, 8 bags of cheese retails for 24.00, 2 aveno lotions...retailing for 6.00 each, John Frieda conditioner which is 7.00, contact solution 7.00, dry idea deoderant 5.00 13.00 in hairspray in shampoo, A gallon of Organic Milk 5.50, 2 containers of Juicy Juice juice boxes 10.00 retail... See pics...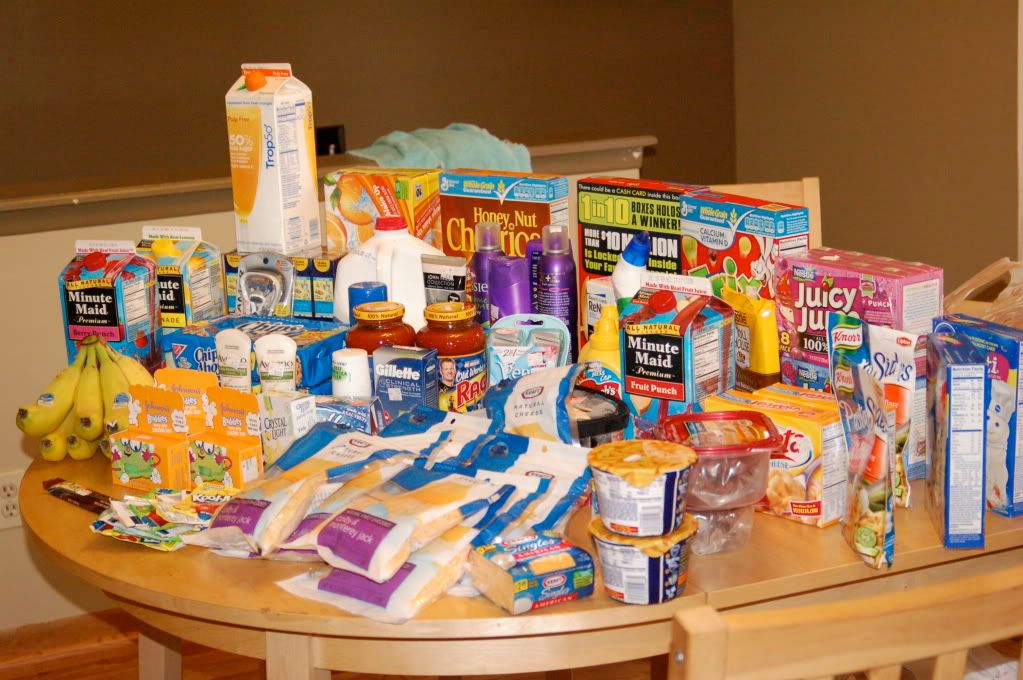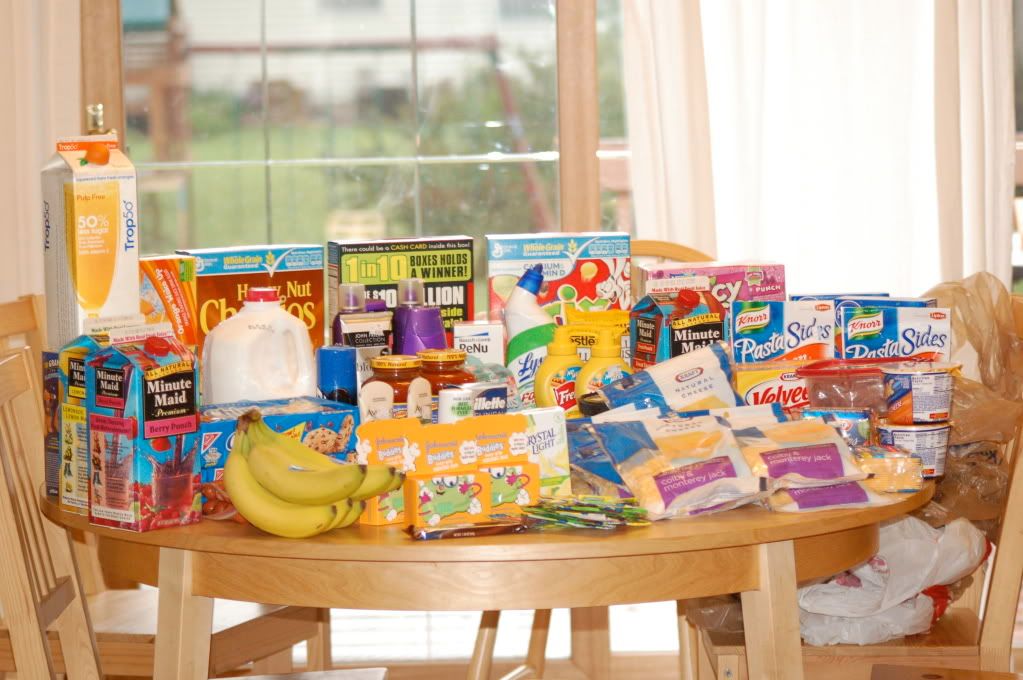 I should mention that my kroger and kmart both take internet grocery coupons, which have helped tremendously! I also made another trip to kmart I walked out with two deoderants, on mens shaving gel, axs conditioner, 4 boxes of general mills cereal all for 4.50! It was great!! And best of all, when I went to kmart earlier in the week, they gave me two coupons, one for 1.00 off my next purchase, and the other for 1.50 off general mills cereal, and guess what...they doubled them! I thought that was funny....you give me another couple of coupons and then double them.....LOL.... Oh and one last note I went to Meijer and bought 4 lysol kitchen and bath and all in one cleaners they were all 1/2 price and with my .50 off each coupons and meijer mealbox coupon if you buy 4, I paid $.15 for each Lysol spray...I was soo excited about that one!!
So the kids finished school....I was happy yet sad...happy we made it through a 3/4 of a home schooling year, 1/4 christian school, but sad to see them moving on from 3 grade to 4th and 2nd grade to 3rd and preschool to kindergarden....I'm sad they are growing up before my eyes...one thing I have learned this year, I love my kids dearly, I would lay my life down for theres...I'd do anything for them....but I have learned that I don't want to home school them again....It was a interesting experience, and if I HAD to do it again, I guess I would, but my choice is for the Christian school full time this year, and the rest of there schooling education...We'll see...God knows whats best and He will provide for them to go there if its HIS will....
Heres my 3rd going to 4th...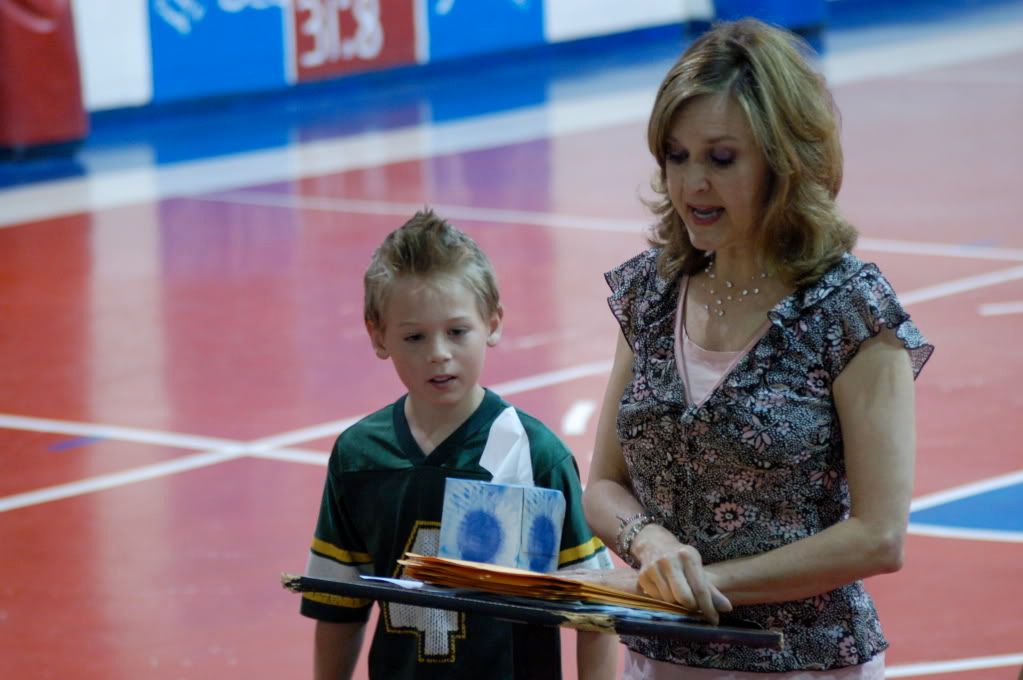 Heres my 2nd going to 3rd..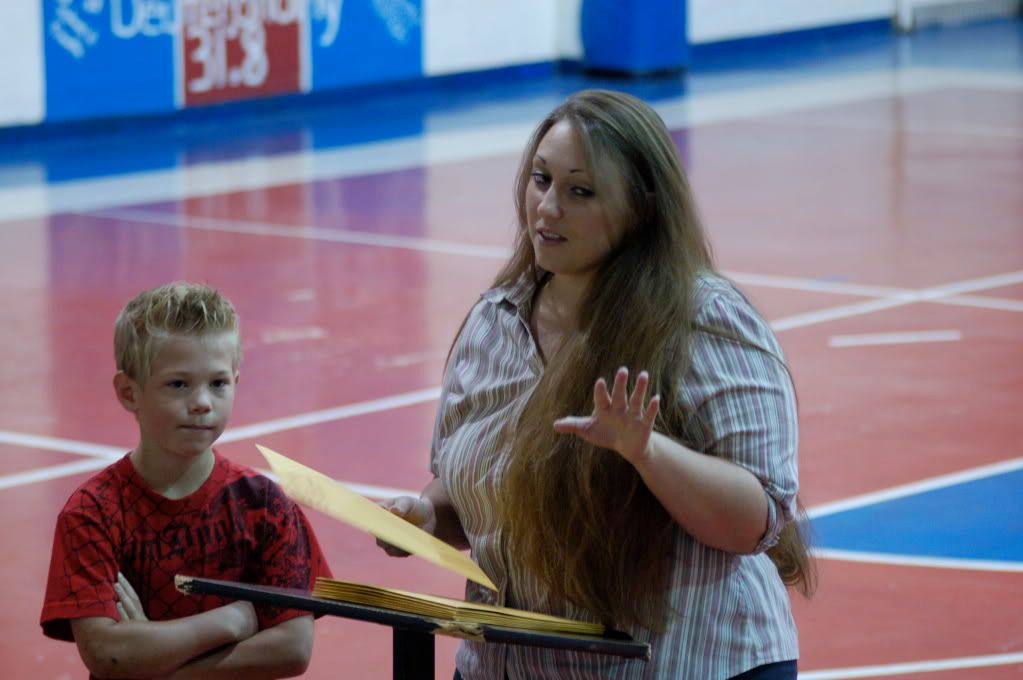 Heres my prek going to K...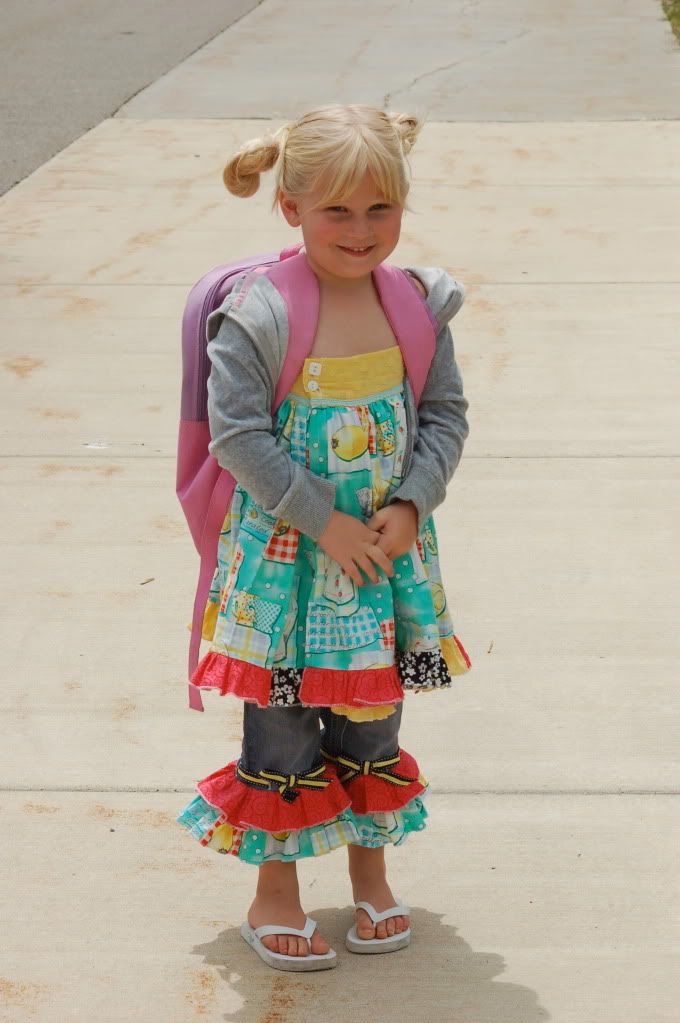 And So I've been busy...making Em's last day of school outfit...pictured above....packing, sewing orders, packing somemore, sewing somemore....and spending time with the kids...I hope to make it a fun summer....I'm a little stressed trying to get everything done, we move in 2 weeks...family is coming in town this coming week...so not much will get done then, and then we have 1 week til we move...ahhh!!! Now I feel better! LOL....
XOXO!!
Gina