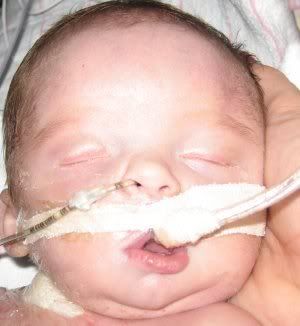 His name is Luke, and he is just soo precious! He was born premiturely because he had a really fast heart beat. The doctors said a pace maker would make him perfect, and after a temporary pace maker was put in, they saw a bleed on his brain. Well at that point they had to hook him up to life support because the pace maker wasn't really doing its job, and his lungs wern't doing there job, and the bleeding on the brain was causing lots of problems...anyways they are saying to my friend that she should withdraw care, and just let him die....but he looks around like a normal baby, and kicks his feet, and holds his mommy's finger...so I would just soo appreciate your prayers for this little guy! Oh and also he just developed meningitus, and they are saying he is completely brain dead now. But still kicking his feet and looking for his mamma, so how he could be brain dead and doing all those things is crazy to me. He's a month old now, and his liver and kidneys are having some problems because of the life support, but my friend said if God wants to take him, then he can take him, but so far she can't just give up on him. So please pray! Heres his sweet little face...Oh and I should mention she has already lost twin girls that were born several months early still born...but happy to report she does have two sons healthy and happy at home, just wishing there baby brother would come home soon!
Sorry for the sad post! I hate to post this, but know there is soo much power in prayer!
Gina
AS a Update from my last post...
BABY Luke passed away this A.M.
His daddy wrote a sweet poem for his baby boy!
ITs titled 40 Days
Another precious baby, given to us to love…
Sweet little angel, sent from heaven above.
Another broken heart, with little time to mend…
Life's new beginning, already close to end.
You were so perfect in every way…
Only God knows why you could not stay.
The pain inside, continues to grow.
We miss our boy, we have yet to know.
From the moment of your first cry we knew.
God had a special plan for you.
The many lives for you to touch, with tender care.
All seeking to offer a bit of prayer.
Each person on bended knees,
Whispering "God heal Luke, will you please?"
So much Faith and so much Hope,
So much Love for our little boy.
Whose very being, brought us such joy.
The pain and tears have come to flow…
Our love for you, we'll always know.
Please don't leave us, we wish you could stay…
To run, to jump, to laugh to play.
Not our will to be done…
Time for you to move on.
Back to heaven where you belong,
With our memories to carry on…
Your strength inspires us,
Your courage amazes us,
Your journey has touched our lives forever...
We will always love you and miss you.
Thanks for all the prayers!
Gina